(reprinted from ABC15.com, May 11, 2009)
If you haven't tried the burgers at The Chicago Hamburger Company, you're missing out!
The restaurant has been voted one of the best burger stops in the Valley as part of the 2009 ABC15.com 'Valley Faves.'
This little burger joint is a popular lunch destination with authentic Chicago-style hotdogs, fries, shakes and, of course, BURGERS!
In fact, The Chicago Hamburger Company was voted one of the "Valley Faves" for Burgers for two very delicious reasons.
The Western burger … and sliders.
The quarter pound Western Burger is packed with cheddar, grilled onions, bacon, BBQ sauce, and two onion rings. It's juicy and gigantic!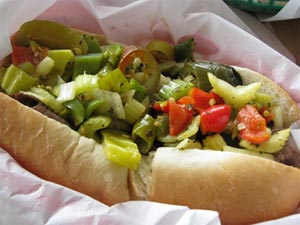 And then there's the slider.
Bob Pappanduros, the owner of Chicago Hamburger Company, says he prepares 500 sliders a day.
If you've never had a slider it's basically a little burger on a little bun. But don't let that fool you! It still packs a big taste.
You can grab a slider for just 92 cents!
The restaurant is at:
3749 E. Indian School Road
Phoenix, Arizona
(602) 955-4137