(reprinted from The Rep, Sept. 20, 2001)
By Kathy Cano-Murillo
If you've ever cruised east on Indian School Road in Phoenix, chances are you've caught a quick glimpse of the Windy City Slider sign on the southwestern corner of 38th Street.
Next time that happens, hit the brakes and pull over.
That understated landmark leads to the Chicago Hamburger Co., a burger joint known for its tasty array of greasy goods.
Owner and Chicago native Bob Pappanduros says he developed the hot dog and burger menu in honor of his former hometown. With a few tweaks and modifications, that is.
"In Chicago, everyone eats a hot dog a day," he says. "In Phoenix, it's more like once a week. So I expanded the menu to include all sorts of other things, like the sliders. Personally, I have a slider a day. My doctor isn't too happy about it, but, oh well."
The walls of the cozy indoor eating area are covered with sports memorabilia and television sets. There's a place for non-sports fans on the outdoor patio.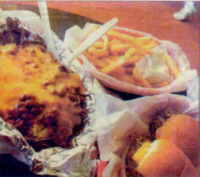 Pappanduros' menu covers the guilty-pleasure gamut: hot dogs, cheese steaks, chicken sandwiches, sliders, chuck burgers, wings, fries, rings and even salads for the calorie-conscious.
Pappanduros says the sliders (miniature burgers) are a good place to start. They come in single and double form, with or without cheese (75 cents to $1.22). For a bigger bite of beef, there are the 1/3-pound Broiled Chuck Burgers ($3.05 to $4.95) and the Turkey or Veggie burgers ($3.15 to $3.85).
There are seven varieties of dogs, from your basic Vienna ($2.95) to the chewy Bagel dog ($3.65). There also are the chili, cheddar and Polish standards ($3.35 to $3.55).
Accompaniments include hot wings, onion rings, regular or cheese fries, zucchini, chili, coleslaw and Frito pies (69 cents to $4).
The caloriefest doesn't stop there. After licking the juice from your fingers, wash it down with an ice-cream float, milkshake or sundae ($1.39 to $3.09).
OK, it's not Jenny Craig. But one slider never hurt anyone. Pappanduros can vouch for that.